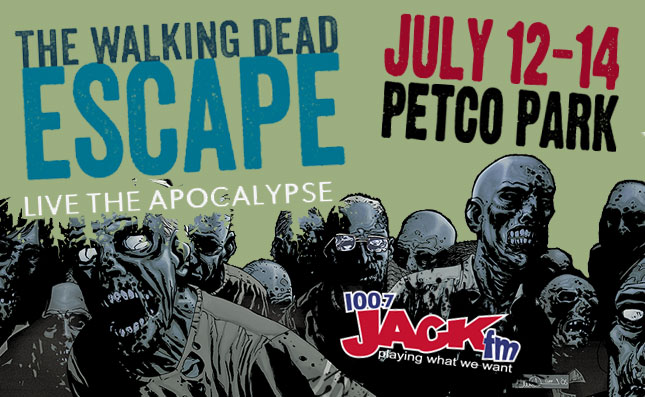 Race through a zombie infested obstacle course at The Walking Dead Escape taking place July 12 -14 at Petco Park.
Greg Nicotero - the force behind Special Effects Makeup for AMC's The Walking Dead- and his team at KNB EFX will be creating the most terrifying zombies to ever grace San Diego.
There are two ways to participate in this epic adventure: Participants can register to be a Survivor and race through the zombie infested evacuation zone or have a front row seat to the end of the world as a Spectator watching from the apocalypse party .
All Survivors will receive an exclusive WALKING DEAD ISSUE 100 VARIANT!
The Walking Dead Escape: San Diego is unlike any obstacle course event in the U.S., expanding on the best-selling The Walking Dead comic book series and graphic novel storylines, allowing Survivors explore the initial days of the Zombie-infested apocalypse. Survivors will climb, crawl and slide through 4 levels of Apocalyptic obstacle course in an effort to avoid confrontation by hordes of Walkers. The Walking Dead Escape is not a race, and Survivors are not timed, but the end is near, and they must move swiftly. If they're lucky, Survivors will reach the decontamination zone at the end where it will be determined if they have been infected.