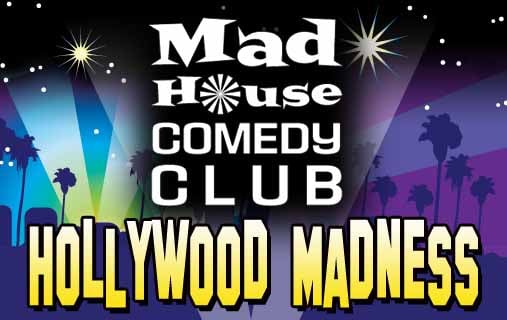 FREE PARKING IN THE GASLAMP! 4 HOURS OF FREE VALIDATED PARKING IN THE HORTON PLAZA PARKING GARAGE, JUST STEPS FROM THE MAD HOUSE COMEDY CLUB!

NO 2 DRINK MINIMUM OR FOOD MIN.... FOR ANY OF OUR SHOWS ... EVER!

The Mad House Comedy Club is your home in San Diego for the very best in stand-up comedy. Buy tickets to great shows, watch videos, read about the talent …check out our FAQ tab for a wealth of information about the Gaslamp District's famous Mad House Comedy Club!

You want comedy??? How about this... 7 of the most talented comics around on one stage. That's Hollywood Madness at the Mad House Comedy Club! This is our most popular show format, up to 7 comics all doing 10-15 min of thier best stuff. Picture an All Star Game for stand up comics. Here is the line up for the Friday shows along with some tv and movie credits they picked up via thier amazing stand up comedy acts...
Josh Nasar: LA radio personilty who's also appeared on ESPN and FOX shows

Claude Shires: Showtime's Dexter and CBS's CSI

Scott Bowman: True TV's Storage Hunters
Erik Knowles: Comedy Time's Man up Standup

Joe Charles: USO tour of Iraq and Kuwait

Robert Lariviere: Sirus Satellite and XM Comedy Channels, Blue Collar Radio

Mark Fry: Favorite at comedy clubs and colleges across the country