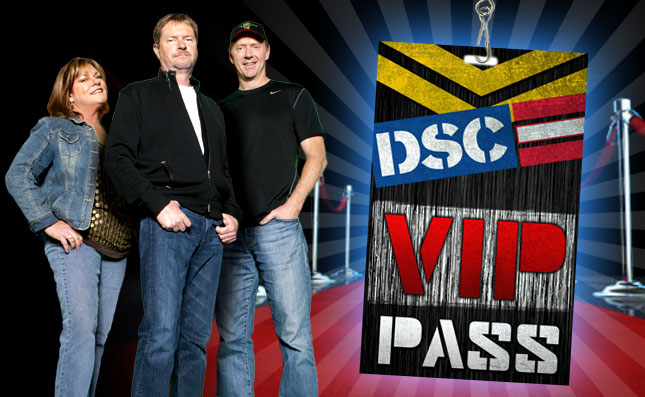 VIP Studio Crashers
UPDATE: Super Fan Andrew was generous enough to fulfill Emily and Elania's request. Stay tuned when he crashes the DSC!!

This is an exclusive opportunity for you to spend your morning with Dave, Shelly and Chainsaw! We will roll out the red carpet for you, and up to three friends, and make this a morning you won't soon forget! Some of the many perks you can look forward to include: being featured on an on air bit, a tour of the one story warehouse, delicious breakfast, hanging with in studio guests, rubbing elbows with Blauer!!

Wait, on second thought, we'll leave Blauer out of this. This rare opportunity is available to the first person, or group, who makes a donation of $2,500 to Emily and Elaina's Team In Training fundraiser.

Team In Training donations are not only tax deductible, but it's for a great cause, helping the Leukemia and Lymphoma Society kick blood cancer's butt!! If you've ever wanted to see how the show really works in person, this is your chance to peek behind the curtain, all while earning tons of good karma points.
To make a donation, CLICK HERE!
The DSC Scissor Sisters, Emily and Elaina, are Team in Training athletes currently training for the Disneyland half marathon in September!!
Team In Training is an established network of coaches, mentors and teammates, built by the Leukemia and Lymphoma Society over the past 24 years – Jack Bauer!! Together we train to beat cancer! Team In Training athletes are relentless to achieve their personal best. Relentless in their determination to beat cancer!
We would love for you to join us in making a difference in the lives of blood cancer patients and their families.
There are lots of opportunities for you to help and have fun while doing so.

Much love to our supporters:
If you have something you'd like to donate, please contact us at dscscissorsisters@gmail.com